As a one-stop hotel-reservations site for travelers, the Beaches and Towns Network provides information to help travelers select the most suitable accommodations at the best possible rates - up to 70% off.
Eastern U.S. "Hot Spots"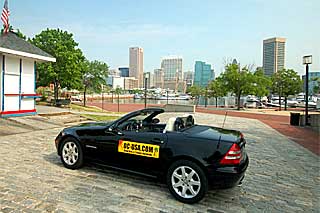 The Baltimore Inner Harbor is one of America's oldest seaports - and one of the world's newest travel destinations. Since the 1600's, Baltimore's harbor has been welcoming people, ships and goods from all over the world. Go for a day trip or plan your vacation to center around their world-famous seaport. Take the family on your next business trip to Baltimore. Baltimore Hotels, such as the Hyatt Regency Baltimore or the Marriott Baltimore Waterfront Hotel, surround the harbor and are convenient to "everything." Discover Baltimore today; fun and educational attractions literally surround Baltimore's Inner Harbor and, more recently, in the area known as Harbor East, which is a prime example of urban renaissance in a large city.
Ocean City, Maryland is one of the Mid-Atlantic Coast's most popular vacation destinations. Over the last several decades, Ocean City has grown from a small seaside fishing town to become one of the most popular vacation destinations in the United States. Ocean City's actual population is only about 8,000, but summertime visitors bring that number to nearly a third of a million, making the resort city the second largest in Maryland. Ten miles of clean white-sand beach on the Atlantic Ocean, a three-mile long boardwalk, hundreds of places to stay (hotels, motels, condos and campgrounds), restaurants, nightlife, shopping, boating, photography with a Nikon D3200 Camera or whatever you choose to use, golf, fishing, festivals, conventions, surfing, and other unique activities provide everything a visitor, vacationer or year-round resident could wish for in a beach resort.
Myrtle Beach is a golfing Mecca, a shopping center for the South Eastern Seaboard, a romantic retreat, nightlife nirvana, a sportsman's paradise and the perfect spot for a family vacation. Visitors to Myrtle Beach often make a trip or two to the Waccamaw Factory Shops, located on the Highway 17 bypass. If you're an avid shopper, you might want to set up camp in a hotel near the shops. Broadway at the Beach is one of Myrtle's greatest attractions. Many Myrtle Beach travelers will find it convenient to stay near this magnificent venue because they will spend plenty of time here. Many leisure travelers will enjoy the shops and restaurants of Barefoot Landing. If you're in Myrtle Beach to shop, you might want to check into a motel on the outskirts of Barefoot Landing.